Lalit Modi Age, Girlfriend, Wife, Children, Family, Biography & More
Quick Info→
Age: 58 Years
Marital Status: Widower
Girlfriend: Sushmita Sen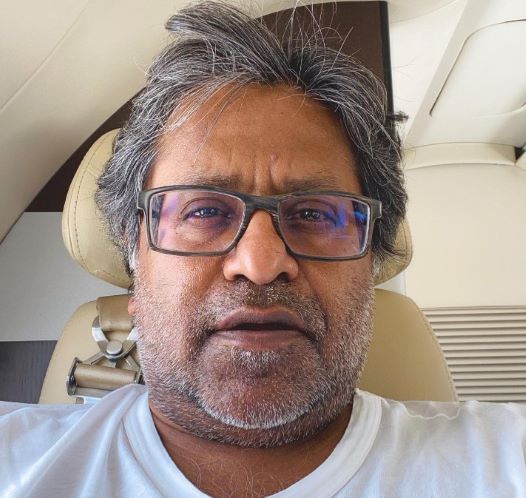 Some Lesser Known Facts About Lalit Modi
Lalit Modi is a renowned Indian entrepreneur and cricket administrator. In 2008, he founded the Indian Premier League (IPL) as its first Chairman and Commissioner. From 2008 to 2010, he served as the Chairman of the Champions League. Gujar Mal Modi, the grandfather of Lalit Modi, was the founder of the Modi Group business in Modinagar in Uttar Pradesh. Later, his father, KK Modi, expanded the family business. Lalit Modi is the president and managing director of Modi Enterprises and the executive director of Godfrey Phillips India.
During his childhood, in 1971, he was enrolled by his parents in Bishop Cotton School in Shimla. Later, his family members once received a kidnapping threat, and they shifted him to St Joseph's College, Nainital, which expelled him in 1980 for truancy as he bunked the school to watch a movie.
When he was in the second year of his graduation, Lalit Modi, along with his three peers, went to a motel in New York, where they tried to purchase half a kilogram of cocaine for $10,000. However, the man who was selling the cocaine threatened them with a gun and robbed their whole money.
The following day, they beat up a peer student whom they suspected of the robbery. On 1 March 1985, Modi was detained for trafficking cocaine, assault, and second-degree kidnapping and was awarded two years imprisonment by the Durham County court, North Carolina.
In 1986, Lalit Modi cited to the Durham County court that his health conditions were not good, and he wanted to return to India. His plea was accepted, and in the same year, he returned to India and started working in his family business.
In 1987, he was appointed as the President of International Tobacco Company Limited and served the position till 1991. On 21 August 1989, he was appointed as the Non-Executive & Non-Independent Director at Godfrey Phillips India. He then started working as an executive director of Godfrey Phillips India in February 1992 and served the position till 1 August 2010.
In 1993, Lalit Modi started a business organization Modi Entertainment Networks (MEN) in a collaboration with Walt Disney Pictures for ten years contract. This venture was set up to telecast Disney's content in India like Fashion TV.
In the following year, MEN started its partnership with ESPN and became the pan-India distributor of ESPN. Later, due to some reasons, ESPN stopped its services with Modi and claimed that the revenues were not properly disclosed by Modi. Thereafter, his contract with Fashion TV was also lost. Modi started Sixo, an online lottery business in Kerala, in 2002.
In 1995, Modi offered a deal of a 50-over tournament to BCCI as he was impressed by the huge revenue earnings of the American sports leagues when he was staying in the US. He proposed the name of this idea as Indian Cricket League Limited; however, his deal was not accepted by BCCI.
He then thought to become a part of the Board, and in 1999, he was elected as a Board member of the Himachal Pradesh Cricket Association. Later, he wished to get control of the Association, but he was forced to leave the association by the then Chief Minister of Himachal Pradesh. He was appointed as the vice-president of the Punjab Cricket Association in 2004 and retained the position till 2008.
He worked as the Vice President of the Board of Control for Cricket in India (BCCI) from 2005 to 2010. He was associated with the Rajasthan Cricket Association as its President from 2005 to 2009 and then from 2014 to 2015, he served as the Punjab Cricket Association as Vice President.
When Vasundhara Raje was the Chief Minister of Rajasthan, then once Lalit Modi held an important position in the politics of Rajasthan, and he was named "Super Chief Minister" by the opposition parties in Rajasthan. In 2005, he persuaded Raje to pass the Rajasthan Sports Act. After the voting, he was elected as the President of the Rajasthan Cricket Association (RCA) by defeating his opponent Kishore Rungta by just 1 vote.
The Rungta business family was controlling the RCA for over three decades. Soon after holding the president position, Modi spent ₹200 million to remodel the Sawai Mansingh Cricket Stadium at Jaipur. In 2005, Modi helped Sharad Pawar, the Nationalist Congress Party leader, in defeating Jagmohan Dalmiya in the BCCI Presidential elections. Reportedly, the revenues of BCCI touched the $1 billion mark between 2005 and 2008 under the guidance of Lalit Modi.
In 2007, he refused the IAS officer Mahendra Surana to enter the Sawai Mansingh Stadium and watch the cricket match. Reportedly, Modi believed that Mahendra Surana was associated with the Rungta family who was earlier holding RCA.
In 2008, Lalit Modi launched Indian Premier League (IPL). He played a crucial role in moving IPL to South Africa in 2009. Gradually, IPL became one of the world's largest sports associations. With such a great success of IPL, Modi is often being compared to Don King (boxing promoter) and Bernie Ecclestone (Formula One promoter).
His brother-in-law is the major shareholder in the Rajasthan Royals franchise. Gaurav Burman, his step-daughter's husband was a partner in Global Cricket Venture. Mohit Burman, the brother of Gaurav Burman, was a partner in the Kings XI Punjab.
One of his childhood friends, Jay Mehta is one of the owners of Kolkata Knight Riders. Reportedly, Modi and his associations with some Indian state governments helped his family members to purchase the cheapest franchises of Rajasthan Royals, Kings XI Punjab, and Kolkata Knight Riders.
In 2009, he denied the entry of R.P. Srivastava, an IPS officer in the same cricket stadium. In the same year, he slapped a constable who walked into his box at the Sawai Mansingh Stadium. In January 2009, a Samajwadi Party activist filed a case against Modi at a police station in Mumbai, and this FIR led him to spend several hours at the police station. In March 2009, he lost his membership in RCA. Later, a committee was appointed by the new leadership of RCA to investigate the financial irregularities he incurred during his tenure.
In 2010, Lalit Modi was suspended from BCCI soon after the end of the IPL season. He was accused of misdeed, indiscipline, and monetary irregularities. This led to an investigation against him. In 2013, he was banned from IPL after he was found guilty of the charges levied against him. However, Modi denied all the charges and stated that he was targeted due to his political rivalries. Soon, an investigation team of the Enforcement Directorate (ED) was set up to investigate Lalit Modi in the financial irregularities in IPL. This motivated him to flee London.
In 2010, Lalit Modi accused the Indian National Congress minister Shashi Tharoor that Tharoor had some indirect partnership in the Kochi Tuskers Kerala IPL franchise. Later, the news went viral in the media, and this incident led to the resignation of Tharoor from the Kerala IPL franchise. Later, the Kochi Tuskers Kerala IPL franchise released an official statement in which it stated that Lalit Modi was torturing them as he wanted the franchise bid to be handed over to any other group.
Later, Modi started dating Minal Sagrani. She was the daughter of Pesu Aswani, a Nigeria-based Sindhi Hindu businessman. She was the ex-wife of a Nigeria-based Sindhi businessman, Jack Sagrani. Modi and Minal Sagrani got married to each other in Mumbai. Minal Sagrani was nine years older than Modi and was a divorced mother of Karima Sagrani, who was from Minal's first marriage.
In 2010, he along with his wife, Minal, started a real estate business in a collaboration with a company called Amer Heritage City Construction Pvt Ltd, and in this new venture, Minal was appointed as the Director of the company.
Soon after the Kochi franchise complained to BCCI on 16 April 2010 that Modi had intimidated them to leave the franchise then on 24 April 2010, he was suspended by the BCCI after he was accused of 22 charges such as misrepresenting the governing council, helping his family members to bid contracts in the IPL teams, bid rigging, betting, and money laundering. Soon after he was suspended by the BCCI, he shifted to London along with his wife.
In a response to the BCCI acts, Modi replied back legally to BCCI and stated that he was not responsible for all the decisions, and BBCI and its members and committees decided the decisions collectively. Soon, he came back to India. In India, Mumbai police claimed that he was threatened by some underworld gangsters after he denied them extortion money. Reportedly, when Modi and his family were on their vacations in Thailand, then Dawood Ibrahim and his associate Chhota Shakeel sent some hitmen to kill them.
In 2010, he stated on one of his social media accounts that Chris Cairns, a New Zealand cricketer was involved in cricket match-fixing in 2008, however, his claims were denied by the cricketer, who sued him for making false statements against him. Later, Chris Cairns $950,000 in damages.
In 2010, the congress-led UPA government canceled the passport of Lalit Modi who was then residing in London. This decision was challenged by Modi in the Delhi High Court. His defense lawyer was BJP leader Sushma Swaraj's daughter Bansuri Swaraj. In August 2014, his passport was revived by the High Court.
In 2013, a BCCI committee charged Modi with another eight charges. The committee was headed by the BCCI vice-president and BJP leader Arun Jaitley, the Congress leader Jyotiraditya Scindia, and Chirayu Amin.
Lalit Modi again joined the Rajasthan Cricket Association (RCA) as its president on 6 May 2014 when he was staying in London. Soon after this decision of his appointment, RCA was banned by BCCI and appointed an ad hoc body to administer its functions of RCA.
In March 2015, he again tried to join the RCA. The then President of RCA, Amin Pathan issued a no-confidence motion against Lalit Modi. During the voting for the presidential position of RCA, 23 people were there to attend the meetings, and out of these 17 members voted against Modi. Five of the voters (Modi's supporters) reached late for the voting and only one vote was counted for him.
In 2013, a case was filed in the Delhi high court by Poonam Chand Bhandari, a Jaipur-based lawyer, against Lalit Modi. In the case, she claimed that Modi was involved in transferring millions of rupees to a shell company, which was owned by Rajasthan's Chief Minister Vasundhara Raje and her son
Dushyant Singh. In 2015, Vasundhara Raje was accused by the Congress party of corruption. Congress claimed that Raje was involved in acquiring monetary favors from Lalit Modi and in exchange she granted him political favors. One of the BJP spokespeople claimed in a media conference,


Raje had acted as a friend of Modi, and not in her capacity as a political leader."
In the Modi-led government, he was termed as "Moderate" by several Indian news channels and opposition party leaders for getting favors from the BJP government. He was blamed for getting protection from the BJP government as he was wanted in many financial irregularities in India.
In all the money laundering and financial irregularities cases against Lalit Modi the international law enforcement agency, Interpol issued a notice against him for his arrest in 2015.
However, despite the notice, he posted a picture with ex-Interpol Chief Ronald Noble on his Instagram account in June 2015 when he was attending the El Clasico match in Barcelona. This incident made Indian media raise queries about the connections of criminals with international law enforcement. Later, Chief Ronald Noble stated in a media conversation that he was unaware of the criminal involvement of Lalit Modi.
In July 2015, it was revealed through a series of emails that Modi was still linked with Noble and his brother James. Several Indian media news channels leaked the set of emails exchanged between the three men. The chats were regarding some purchases of property worth $365,000 in the United States.
Soon after the news went viral, Nobel claimed that Modi and his brother started up a new business venture, and Nobel was not involved in the same. Since 2015, Lalit Modi was accused of many forgery and money laundering charges, which were handled by the Enforcement Directorate of India. Later, ED requested Interpol to issue a global arrest warrant against Lalit Modi; However, in 2017, this request was rejected by Interpol.
Lalit Modi remains very active on various social media platforms. He has over 3.7 million followers on Instagram. On Facebook, he is followed by over 206k people.
 In July 2022, on one of his social media accounts, Modi Announced that he was dating former Miss Universe Sushmita Sen.
He was featured by several renowned magazines and tabloids on their cover page as a successful businessman.
Modi enjoys smoking cigarettes occasionally
.