I've been looking forward to the Korean Netflix horror thriller, The 8th Night for a couple of weeks. It's now available and I watched it. But does it deliver? With prayer beads in one hand and an axe in the other, a monk hunts down a millennia-old spirit that's possessing humans and unleashing hell on earth.
The 8th Night
So way back in time, there was a demon who wanted to open up this space that would allow all hell to take over Earth. The demon's powers come from its eyes, which is one is red and one is black.
Now somehow these broke free from the demon. And then they tried to escape because that's where all the power was. But luckily, the Buddha was able to finally capture them and put each in some kind of stone prison where he hid them in opposite areas to be guarded through time by nameless guards.
The 8th Night
Now, we fast forward to modern times and an archaeologist professor. For some reason has been searching for these to prove their existence of them. He finally uncovers one. But he's disgraced when carbon dating tests don't authenticate the age.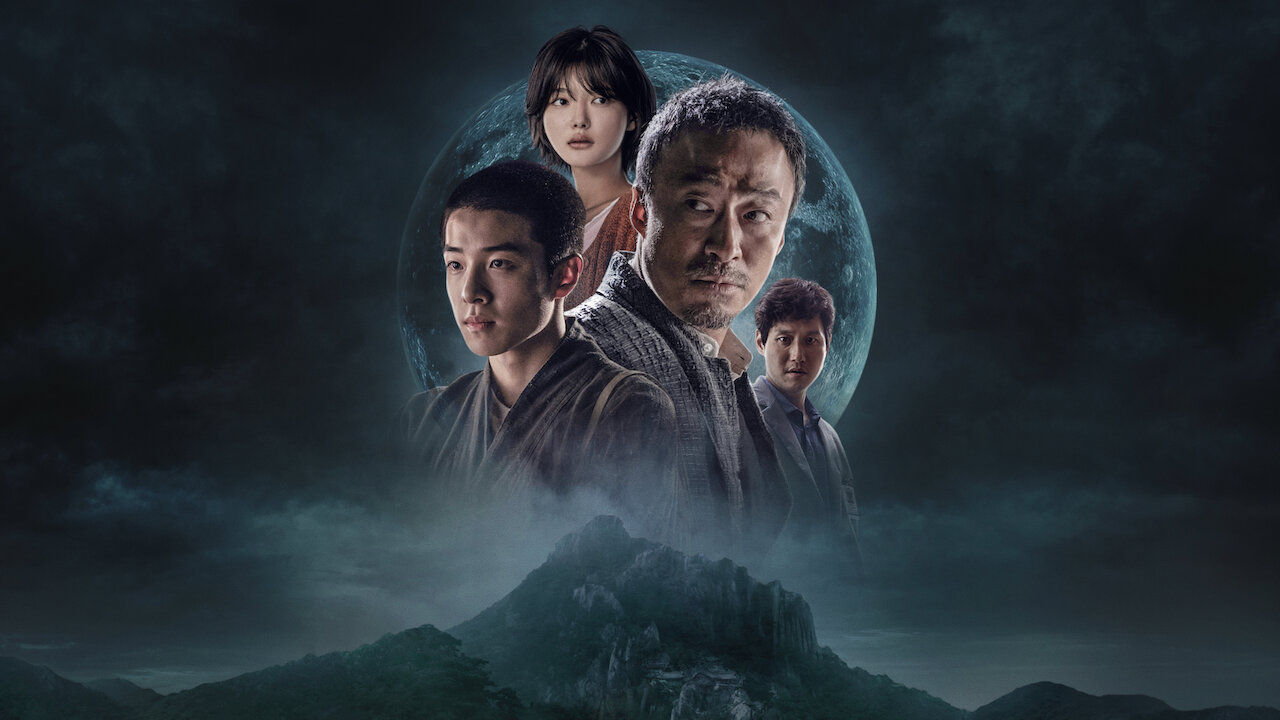 Finally, 14 years after that, the red-eye is making its way through a series of stepping stones, which are really people in order to arrive at the final person who will allow the demon to finally open the door and unleash hell on earth. Now, everything I just told you happens within the first couple of minutes of this movie.
The 8th Night
But there's also so much more that's going on. This is sort of a slow burn in the form of a mystery thriller and then horror. The story follows three main players as the story unfolds. We have a young protegé monk.
He's meek Cheongseok and very friendly. He is also pretty charismatic, which allows us to be drawn to him fairly quickly. There's also Seonhwa, who is a grizzled guy that Cheongseok searches out for help. Seonhwa is pretty rough around the edges and is kind of angry. Now, luckily, he doesn't remain a mystery for the entire movie.
We do get glimpses into his past, which then inform us of his emotional state and why he has all this baggage. Finally, there's a detective who's working the case of those that the red-eye has used as the stepping stones.
The 8th Night
There are a series of eight stepping stones that must be travelled through. Now, why, you might ask, right? Well, that's just what the story gives us. Even though there is a reasoning that is given for why the particular people are chosen as the stepping stones, now, the number is just part of the lore.
So I just went with it. The first third to half of this hour and 56 movie is a little bit slow, but that's mostly due to the fact that the story elements are just being set up for us. There are some interesting visuals that come into play and we can feel a mounting tension. But after about that halfway mark and maybe a little bit before that, the pace really picks up and gains some good momentum.
The 8th Night
The film employs some very disturbing imagery that won't necessarily terrify you, but it is disconcerting and creepy. And like many Korean horrors, they love to have their characters just contort their necks into odd angles while staring directly into the camera without blinking, and then they'll make just a quick move or an uncomfortable smirk.
It's just plain wrong. There are a few times that this is used, and it's very effective to keep us off balance. Sometimes the movie also uses the editing technique of skipping frames, which gives action sort of a stuttered or unnatural feel. And it feels right at home with what's going on in the scenes where it's used in this movie.
The 8th Night
The story itself was initially very intriguing. And then it kind of lost me just a little bit in the first quarter because I wasn't really sure why I should care about certain sequences. But then as it continued along, I was fully invested in what was going on. I think what got me to be more invested was the character of Cheongseok.
He's so likeable that I become concerned for his safety and his security. And then the chase was also becoming more compelling. I like that there's an urgency to the story as well. Because we know that there are only eight stepping stones the eye is going to travel through, there is a looming countdown towards some climax.
The 8th Night
And when the climax comes, it was pretty exciting. Now, some of the visuals feel like they're borrowed from Harry Potter with the Death Eaters, but they still added a good element. Even if for this story, what was going on wasn't totally defined. The story also isn't one of complete satisfaction.
The 8th Night | Official Trailer | Netflix
There's quite a bit of melancholy and darkness that surrounds the overall tone, but it does leave us with a feeling of hope. Now the story raises some ideas and points as it goes along. And I'm not sure if every plotline is fully answered once the credits roll, but for the most part, the movie does feel complete as it wraps up.
So overall, I really enjoyed the visuals and almost all of the special effects. The story becomes one that is pretty compelling and it maintains a lot of tension because of the urgency that's built into the narrative.
The 8th Night
I really love the characters of Cheongseok and Seonhwa and the backstories that are slowly uncovered with them. These provide moments of character growth and even redemption, making them heroes worthy of our concern. I had fun with this and was even surprised at some of the actions that were taken.
The 8th Night
Which is also great when a story can keep us on our toes. There's no sex or nudity, some profanity and a ton of violence. I give The 8th Night three and a half out of five couches. Are there any horror movies you're watching lately?
Different Servers to download The 8th Night (2021) Full movie in HD+
The links below will redirect you to other pages of the website so kindly wait and try different links, your download should start shortly.
Download The 8th Night Full movie in HD+
Download The 8th Night Full movie in HD+
Download The 8th Night Full movie in HD+
Download The 8th Night Full movie in HD+